Please join us for two unique evenings as we present these one of a kind opportunities to celebrate food and experience the culinary talents of these Celebrity Chefs! You don't want to miss this!

Sunday, March 15th:  Chef Barkha Limbu Daily, founder and owner of the award-winning restaurant the cheel, will prepare a selection of cuisine that is all about the authentic flavors and ancient food preparation techniques of Nepal. Quench your thirst for food adventure, taste the heat and feel our passion for serving up a unique and convivial dining experience where you can just relax and "cheel out".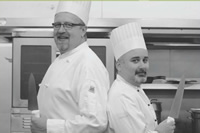 Sunday, May 31st: Chef Joe Johnson and Chef Mark Wagner will treat you to a festive celebration of food as Chef Joe Johnson will be preparing a flavorful duck salad and Chef Mark Wagner will be preparing a seared tenderloin with a whiskey reduction. These chefs always good food and good laughs. 
The Details
Lakeland University in the Younger Family Center
4pm Cocktails
5pm Chef Demonstration with dinner and raffles to follow.

Tickets are $75 or  join us for both events for $125!
Tables of 8 are available for only $500!