#GivingTuesday is a global giving movement with local impact. At SCIO, there are several ways that you can participate in Giving Tuesday to help families locally.
Open House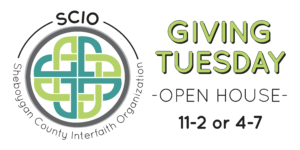 Join us on Giving Tuesday, December 3rd, 2019 at our Open House to learn more about all three of our programs: Bridgeway & Beyond, Supervised Visitation and the Sheboygan County Farmers Market.
Where:  1251 Geele Avenue, Sheboygan
When:  Tuesday, December 3rd, 2019; 11am to 2pm, 4 to 7pm
At our Open House you will find various unique ways that you can give to help families locally:
Enjoy a guided tour of Bridgeway to see firsthand where families are able to transform their lives in the safety and stability of our residential facility.
Learn about the life changing programs that our moms participate in to provide a better life for themselves and their children.
Hear about the economic impact of the Farmers Market for vendors and residents of Sheboygan County.
Learn about the only private visitation program in the county that helps families that are going through transitions.
Enjoy a light meal with us while experiencing the programs that change lives.
Donate
On Giving Tuesday, all donations will be matched up to $8,000 thanks to generous, anonymous donors.  This match applies to donations made in person and online.
All donations are tax-deductible. Our Tax ID number is 39-1654340. Thank you for your generosity! Your gift will make a difference improving the lives of the families we serve!