The SCIO Farmers Market opens on Wednesday, June 3rd! New this year: we've changed our hours! The Market will run from 9am-1pm on Wednesdays and Saturdays, and 12pm-5pm on Thursdays, in Plymouth. Below are the market guidelines for customers to shop safely at the market:
Come to the Market in good health
Practice social distancing
Wash your hands
Face masks are encouraged per CDC recommendations
Let the vendors handle and bag product for you
No sales before 9am
Wash your reusable bags between visits
Wash all produce before consumption
No onsite food consumption
Please leave your pets at home
Send one family member to do the shopping
Make a list!
Farmers Markets are an essential food resource. By shopping at your local Farmers Market you are:
Supporting your local farmers
Purchasing locally grown products
Providing fresh, healthy food for your family
We will once again be offering EBT at the Market, as well as Double Your Bucks! We will be distributing the Senior Farmers Market Nutrition Program vouchers throughout June and July. Stay tuned for more details!
---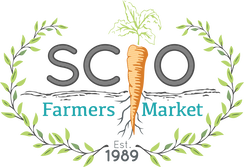 The Sheboygan & Plymouth Farmers Markets erupt with fun and natural beauty in the summer. From fresh grown produce and flowers to local cheese artisans and bread makers, the SCIO Farmers Markets offer the best that Wisconsin agriculturalists have to offer.  All vendors live within 100 miles of the market, so you are truly supporting your neighbor.
Would you like to vend at the Farmers Market?  Apply here.
Visit the Farmers Market
 

SCIO Sheboygan Summer Market
Fountain Park 8th St. and Erie
Sheboygan, WI
June-October
Saturdays 9am-1pm
Wednesdays 9am-1pm

SCIO Plymouth Summer Market
Dairy Queen parking lot
3101 Eastern Ave
Plymouth, WI
June 18th – October 15th
Thursdays noon-5pm
 
SCIO Sheboygan Winter Market
First Congregational Church
310 Bluff Avenue
Sheboygan, WI
November-April
1st and 3rd Saturdays 9am-1pm
How the SCIO Farmers Market Serves Sheboygan County
Senior Farmers Market Nutrition Program: 
The Senior Farmers Market Nutrition Program (SFMNP) offers low-income seniors an opportunity to purchase $25 worth of fresh, locally grown fruits, vegetables, and herbs from certified farmers.
​
Income eligible seniors (see eligibility below) can apply on a first come, first serve basis at the SCIO Farmers Market information booth or designated times at senior dining sites throughout the county. SFMNP vouchers can be used June 1st-Oct. 31st at participating Farmers Markets and roadside stands in Wisconsin.
Senior Farmers Market Nutrition Program
Income Guidelines 2020

The SCIO Farmers Market Accepts FoodShare
Bring your EBT card to the SCIO information booth and receive wooden tokens to spend at the Market. Use EBT tokens to buy: bread, eggs, meat, fish, dairy, honey, maple syrup, and preserves. In addition, receive up to $10 in fresh produce vouchers through the generosity of St. Nicholas Hospital and the Double Your Bucks Program. Fresh produce vouchers can be used to buy fresh fruits, vegetables, and herbs.
Other Voucher Programs
The Sheboygan County Food Bank, Lakeshore Community Health Center and WIC also distribute coupons that can be exchanged for vouchers at the Farmers Market.
*Vouchers are limited