#GivingTuesday is a global giving movement with local impact. At SCIO, there are several ways that you can participate in Giving Tuesday to help families locally.
Open House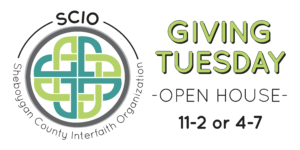 Join us on Giving Tuesday, November 28th, 2023 at our Open House to learn more about all three of our programs: Bridgeway & Beyond, Family Pathways and the Sheboygan County Farmers Market.
Where:  1251 Geele Avenue, Sheboygan
When:  Tuesday, November 28th, 2023
Tours:  11am-2pm, 4-7pm
Free Photos with Santa:  1-2pm and 4-5pm
Enjoy a guided tour of Bridgeway to see firsthand where families are able to transform their lives in the safety and stability of our residential facility.
Learn about the life changing programs that our moms participate in to provide a better life for themselves and their children.
Hear about the economic impact of the Farmers Market for vendors and residents of Sheboygan County.
Learn about the only private visitation program in the county that assists families that are going through transitions.
Enjoy a light meal with us while experiencing the programs that change lives.
Giving Tuesday is a great way to fund all of SCIO's programs. The vulnerable are impacted most during an economic downturn. At SCIO, there are several ways that you can participate in Giving Tuesday to help families locally. Please take a look at our 2022 Community Impact Report to see how your donations help our community. Here are a few highlights:
Bridgeway & Beyond: 10 moms and 22 kids called Bridgeway "home".  288 moms and kids were served through our Aftercare and Outreach case management.
Farmers Market: Total sales as reported by vendors amounted to over $200,000. People participating in the SNAP program were also able to double their bucks thanks to HSHS/St. Nicholas Hospital. This resulted in over $30,000 of fresh produce was purchased by low income community members.
Family Pathways: 15 parents and 25 children participated in the program. This resulted in 525 hours that parents and their kids were able to make memories together.
---
IN-KIND DONATIONS
GOAL: Fill our Sleigh with needed items from this Giving Tuesday Wish List 
---
MONETARY DONATIONS
GOAL: $20,000 On Giving Tuesday, all donations will be matched up to $7,000 thanks to generous, anonymous donors.  This match applies to donations made both in person and online! What happens if we reach our goal?
The Bridgeway families are ready to deck out the Board of Directors for a 
Giving

 

Tuesday

Silly Fashion Show on Tuesday, December 5th at 6:45pm
, broadcast live on Facebook! Donate money and for every donation level we reach, we will add another Board member.
Visit this link to see if your employer will match your donation!
| | |
| --- | --- |
| | . |
HOW IT WORKS: When donations reach a total of $3,000, one Board Member will be subjected to participating in the . This will be shown on Facebook Live on SCIO's Facebook page. Each additional $1,000 donated, will result in another Board Member participating in the Giving Tuesday Silly Fashion Show on Tuesday, December 5th at 6:45.
| | |
| --- | --- |
| $3,000 | Jensen Bartels |
| $4,000 | Jensen, Emily Kaiser |
| $5,000 | Jensen, Emily Kaiser, Emily Grzesiak |
| $6,000 | Jensen, Emily K, Emily G, Kristine Feggestad |
| $7,000 | Jensen, Emily K, Emily G, Kristine , Koke Mailo-Podewils |
| $8,000 | Jensen, Emily K, Emily G, Kristine, Koke, Andy Duchow |
| $9,000 | Jensen, Emily K, Emily G, Kristine, Koke, Andy, Lisa Stephan |
| $10,000 | Jensen, Emily K, Emily G, Kristine, Koke, Andy, Lisa, Julie Mavity-Maddelena |
| $11,000 | Jensen , Emily K, Emily G, Kristine, Koke, Andy, Lisa, Julie, Kat Weber |
| $12,000 | Jensen, Emily K, Emily G, Kristine, Koke, Andy, Lisa, Julie, Kat, Karen Grupe |
|   |   |
| $13,000 | ALL BOARD MEMBERS: Jensen, Emily K, Emily G, Kristine, Koke, Andy, Lisa, Julie, Kat, Karen, Kelly Schramm |
---
All donations are tax-deductible. Our Tax ID number is 39-1654340. Thank you for your generosity! Your gift will make a difference improving the lives of the families we